Filipinos are taught to handle money responsibly at an early age. In the 1950's, I remember every Christmas day, from the time I was five years old, my cousins and I would fall in line to kiss the hand of the adults in the family. The adults, in turn, handed us cash as Christmas gift. At the end of the day, we would count our loot and compare who got the most money. We would then go to the market to buy ourselves clothing or anything that we failed to get our parents to buy for us during the year that passed. That annual exercise taught us how to value the Christmas money like hard earned salary, since it came once in every 365 days. We deliberated the entire year on what item we were going to buy for our money. After we got what we wanted, we felt rewarded, not by Christmas, or Santa Claus, but by a cultural tradition unique to our nation.
Midyear, if we wanted something pricey, we had to save up from our daily school allowance called "baon" which came in nickel and dime, just enough for a snack during a break called recess. So, hoy does a child buy a pricey item without waiting for Christmas?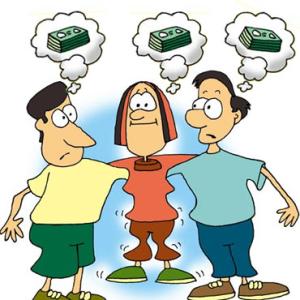 From: rediff.com/
This is where the Paluwagan, a system of credit/lottery of sorts, happens. Paluwagan in English means 'ease up'. This is how it works. A group of children makes a pact to pay a small amount each day to a pot held in trust by a treasurer. A raffle with their names decides the series of beneficiaries. At the end of the month, the entire amount collected, called 'sweldo', salary in English, is given to the first one to get picked off the raffle. The next month's sum goes to the next kid. Those who have received their 'sweldo' needs to continue paying for the rest to get theirs. When the Paluwagan goes well, everybody in the group gets their lump sum.
Sometimes though, the first kids to get their money loses the incentive to pay their daily obligation. The last kid supposed to receive might not get a dime back. In this case the Paluwagan becomes pasikipan, which means in English 'squeeze up', because the money would have to be squeezed off from the delinquent members of the group.
Paluwagan was the predecessor to our current credit card system. Aren't those kids smart?!
WARNING: There are online Paluwagan scams proliferating these days.