Memory is selective. Sometimes we remember only the good times. Some people only remember the bad. When divorce happens, what memories are left behind? Here are mine.
He flew me business class from Manila to Kentucky but that's nothing. Even with my Philippine peso salary I could buy that myself. I'd just have to save up. That flight kicked off my midlife journey.
He arranged for our riverboat wedding on board the Southern Belle riverboat, docked at Chattanooga, Tennessee. The wedding package required a Tennessee marriage license, so we got that. We had the ceremony on the promenade deck with the mountains and the Tennessee River in the backdrop. It was officiated by our Riverboat Chaplain. The Bridal bouquet, keepsake champagne glasses, buffet dinner for two and dinner cruise were included. I was 55 years old and he was 60. The photo shows us looking like eloping teens in blue jeans. So I guess, yes, we were happy that day.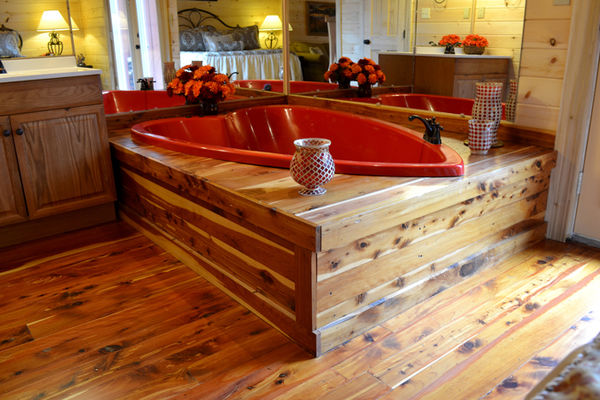 He booked a Honeymoon Hills Gatlinburg Cabin for our honeymoon. It was in the middle of the forest but had all the amenities of a city home for our convenience, like cable television and a complete kitchen. There was a red heart shaped hot tub at the foot of the bed surrounded by mirrors like the one on the photo.
He bought me shiny gray silk pajamas I didn't even want. I'm used to flannel or cotton. But he insisted. I still remember how smooth the silk felt on my skin. I looked fabulous with it on me!
I'm one of Jehovah's Witnesses. I told him from the get go that he doesn't have to give me anything for birthdays, Christmas or Valentine's and I can't give him anything either. During the entire marriage, he insisted on giving me $150 for every occasion. I was to get myself something and show him what I bought. I guess because he didn't want to go to the ladies section. Looking back, that was sweet of him!
Funny thing, what I appreciated was the collection of Rascal Flatts hits CD he made for me. I have moved from home to home, to another state and changed cars. I still listen to the CD.