Pogonophilia is a fixation on men with facial hair. It mostly manifest in women with love for mustached or bearded persons. I believe this differs from Trichophilia which is said to be sexual hair fetishism. Why do I think so? I have been guilty of Pogonophilia long before there was a name for it. My condition is more on the fashion statement rather than sexual. Touching facial hair is not my thing.
My Pogonophilia started with Filipino movies in the 50s where the villain always had facial hair to make the good guy easier to spot. To this day, Jehovah's Witnesses in the Philippines are dissuaded from wearing facial hair. It gives householders they meet during door to door ministry an impression of villainous intention.
In high school, the guys I dated all had starter mustache Filipinos call "balahibong pusa" which means soft as a kitty's fur. After graduation, in college, every guy in campus was a fan of Che Guevara, at that time. A mere four years from puberty had textured the boys' facial hair stronger, thicker and trimmable into whatever suits their illusions of manhood be it Che Guevara, Fidel Castro or George Harrison.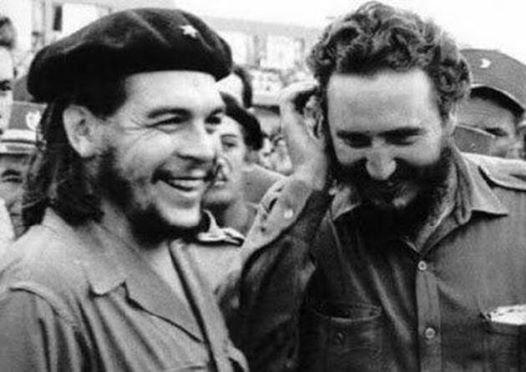 Che Guevara, Fidel Castro
From: pbs.twimg.com
The first guy I ran off with had a goatee and only a goatee. One year later the goatee blossomed into a full beard and mustache Filipinos call "balbas sarado". He grew it when he was out of town to surprise me although I never mentioned to him my fascination with the mustache. He came home and blew me away! From that moment on, I saw him as larger than life. He was every action star in a movie. I got pregnant. To this day, no man real or movie character has ever approached his level of machismo in my eyes. Two of my ex-husbands after him were clean shaven but both tried to grow a mustache as if they all could sense my Pogonophilia. They didn't quite make it.
Fast forward to 2006, I remarried to an American with rather long blond hair and mustache. I still didn't know back then that my psychological condition had a name nor a cure. Even if science invents medication, it's too late for me. I am now 65 years old. My ship sailed a long time ago.
See also:
Liam Hemsworth in My Eyes
Picture of Being in Love
Losing No.1