In the mid 50's we lived in my grandmother's six unit apartment with my mother's siblings in the other units. My cousins were like my brothers and sisters.
Mom was the envy of her neighbors and relatives. My Dad was a US Navy man and received dollar allotment whenever he was abroad. Allotment meant a portion of her husband's salary was sent to her directly by the US government. We had two housemaids while other families had one or none. She had an American kitchen in the middle of Pasay City. That means a four burner GE electric range and a tall two door Frigidaire refrigerator, rare in the 50s.
Pandesal
My Dad came home for vacation once every two years or three. Each time he brought home a kitchen gadget from America. The first thing was the bread toaster. The family only had loaf for occasions and did not need toasting,
Mom called it pan-Americano
. We got fresh baked
pandisal
every morning from the corner store two doors away.
Pandisal
does not fit in the toaster. The toaster became a kitchen décor.
Next was a potato peeler. Before that thing arrived we peeled everything with a knife. A lot of demonstrations went on that day. My Dad peeled everything he could lay his hands on from the fridge for example green papaya, potato, singkamas, etc. The neighbors and family came to see about the marvelous new invention. Another reason to envy Mom.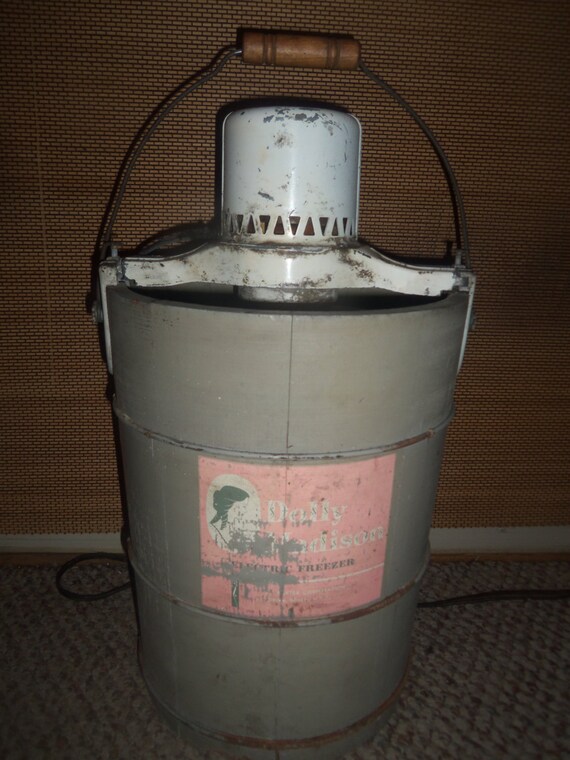 Ice Cream Maker
After the peeler came the ice cream maker. It has a container that would churn the mixture of fruits, sugar and milk and create homemade ice cream. After Dad left for his naval station Mom put the ice cream maker in storage. It was too much trouble and expense to use. Ice cream in the Philippines was brought to our door for 5 centavos a cone.
Next was an electric can opener. Dad demonstrated how to use the gadget. He opened all the can goods in the pantry, even those that had a key one used to roll off a slice of the tin can to separate the top, like sardines and corned beef.
On another vacation, it was a pressure cooker. This time no one came to look. It wasn't as magical as the potato peeler or electric can opener. Again my Dad demonstrated how to use the pressure cooker. Making sure my Mom understood perfectly that this thing could explode if not used correctly. He said there has been some burn casualties, people who unlocked the lid too soon or did not follow instructions carefully. I was watching the demonstration and got the message very clearly. I grew up and never bought or used a pressure cooker in my life. Even here in America I cook sinigang the old way, tenderizing meat by boiling in a regular pot rather than deal with my fear of a pressure cooker exploding.