Tess, a Filipina, went to a catholic school in Manila in the mid 60's. Unlike public school the all-girls private schools were full of tall 'mestiza' (means a high degree of Caucasian genes). Tess was 'mestizahin' which meant she was fairer than most but not quite as white as the real 'mestiza'. She grew up to 5'1 tall then stopped growing. She had smooth skin with no pimple common to teens however she had a round face, a result of her Chinese genes which dominated her Spanish. She has over staying baby fats and wore eye glasses for astigmatism so she was not picked for volleyball or any kind of sports.
She had long hair her mother insisted on braiding into what her mom called pig tails when braid was not in fashion and wore clothes made by a 'modista' or dressmaker while her schoolmates wore clothes from department stores at Escolta Street, Manila. Her family was not poor but they were not rich either so she was more comfortable making friends with poorer classmates and neighbors.
Tess has above average intelligence but she was not competitive like her more commended schoolmates. She was quite content with getting just above passing grades which she got without much effort. This might have been a result of the unconditional love she got from her parents and grandparents. She didn't have to compete with siblings because she was an "unica hija" (only daughter).
Her teachers said she has 'potential', for what they did not specify. Her grandmother wanted her to be a lawyer because she was so smart. No one ever said she was pretty. Unlike all little girls she was never asked what she wanted to be when she grew up or they would have been surprised at her answer.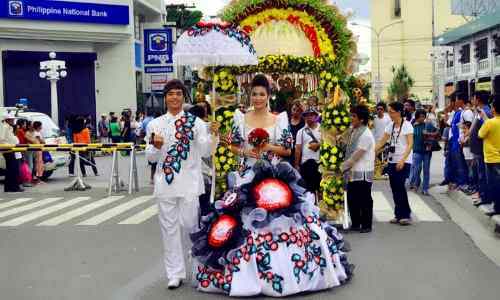 Flores de Mayo Procession
Tess wanted to be a beauty queen but she was not even invited to the Flores de Mayo festival which featured the local beauties. Then she wanted to be a Flight Stewardess but she was too short. At sixteen she wanted to be a 'television caged dancer'
but that one had height requirement too. Then she noticed that all the girls in school had well developed breasts while she was chubby in the wrong places. She did everything the women's magazines suggested, massage, exercise, boobs diet, etc., nothing worked for her. The push up bra might have helped but there was nothing to push.
It has been said that every kid is miserable in high school. Tess knew a lot of early bloomers who had the time of their life back then. She just was not one of them.